SocialMedia
Published on octubre 24th, 2009 | by GAby Menta
0
Technorati: 73% of Bloggers Use Twitter.
Rather than just being used as a micro-blogging platform to share our daily lives in short updates of less than 140 characters, Twitter has been widely popular among bloggers and Internet marketers, who use it to publish their articles to reach out to a large community, which currently stands at 54 million people.
According to Technorati's final installment of the State of the Blogosphere 2009 report, 73% of respondents participated in the blog search engine's survey use the San Francisco-based micro-blogging service which was founded in March 2006. This is a relatively high percentage, compared to about 14% of the general population.
Not surprisingly, 52% of the bloggers say they create a profile on Twitter to promote their blog/website by syndicating their blog posts to their account, trying their luck to be listed in one of Twitter's trending topics. 41% do so while also posting tweets that are not associated with their blogs. They mainly use it for research, to keep up with the events in their friends' lives and news events, to understand what people are buzzing about, and to bring interesting links to light. In fact, 26% of the respondents spend so much time on Twitter that the service has eaten into the time they spend updating their traditional blogs.

---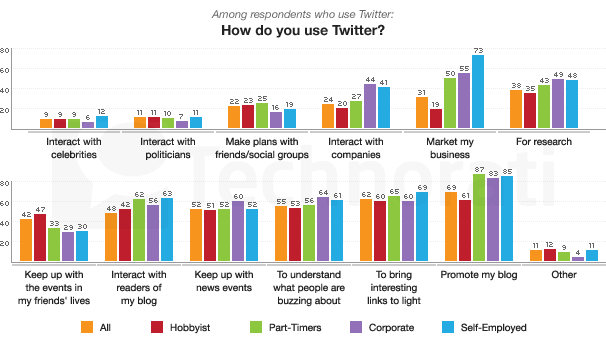 ---

Apparently, Twitter is dominated by young adults between the age of 18-24, and many teens don't really like using Twitter. However, there is one exception – the teenage tech-savvy bloggers at TechXav!

We may be young, but we are avid Twitterers! Although our main objective is for blog promotion and research purposes, but sometimes we do use it as a micro-blogging tool to share our personal lives and funny encounters.
What is Twitter all about? Well, 35% of bloggers who don't use Twitter simply don't understand the point of the micro-blogging site. Other reasons which result in such a decision are: "I don't feel the need to broadcast my life", "I don't have enough time to devote to it", and "I don't think the content is compelling".
Although I did mentioned that I do tweet about my personal life on a regular basis, however, as a teen, I still prefer Facebook. My close friends and schoolmates are there. What's more is that the social networking giant is a game haven, filled with free and interesting flash-based games. No matter what, Facebook is still the best!

via.techxav.com