Uncategorized
Published on octubre 13th, 2009 | by GAby Menta
0
Pepsi trips up with sexist iPhone App.
"Trouble" is an apt word to apply to the kerfuffle that Pepsi has become embroiled in over an iPhone app created to promote its AMP energy drink brand in the United States.
«AMP Up Before You Score» is a free app you install on your iPhone or iPod Touch that lets you select from 24 different 'types' of woman you might be interested in to pick up and sleep with, including "Trouble" as you see in the screenshot.
The app has tips and tricks you can employ in your approach to your female target so you can 'score,' and there are links so you can also brag about your conquest on Twitter and Facebook.
It should come as little surprise to anyone to learn that this app has provoked strong opinion from people all over the internet, stimulated largely by a post on Mashable which gave it huge attention. It was a trending topic on Twitter late last night. While the majority of opinion I've seen is critical towards the app and its concept, it probably won't surprise you either to learn that some people can't see what the fuss is all about.
I heard about this app in a tweet from Barbara Nixon early yesterday which linked to a report on the Jezebel gossip site. I had to try the app to see for myself what it was about so I downloaded and installed it (you can see my screenshots on Flickr).
My first and continuing thought was "What were they thinking!" How anyone in Pepsi responsible for management of the AMP brand could seriously have imagined that an application that demeans women to this extent would not provoke such negative reactions about that brand and, by association, the company owning that brand surely demonstrates huge disrespect to those women (who are also undoubtedly consumers of Pepsi brands).
Clearly someone in the AMP brand management department now sees that maybe the app wasn't such a good idea as they tweeted an apology.
Notice the inclusion of the #pepsifail hashtag that enables anyone to easily find all tweets referencing a particular topic. An interesting subliminal admission from AMP.
Note, too, that AMP's tweet was retweeted by the folk who run the Pepsi Twitter account – minus that hashtag, though.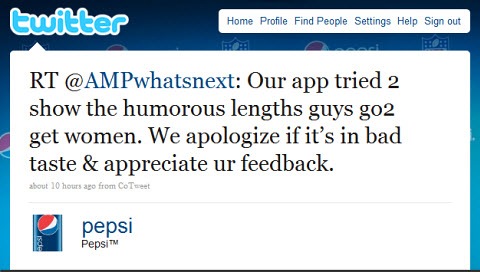 This is one of those milestone events that rapidly erupt now and again on the net – look at Motrin and Domino's Pizza as two recent examples – and which are instructive in seeing how the owners of brands under fire deal with the storms that result.
In this particular cases, it's obvious that people at Pepsi are at least listening and paying attention to conversations online. What they do next as a result of that listening is where this could get really interesting.
Which leads me to my speculative questions list:
Will Pepsi's collective apology tweets be enough to pour oil on the troubled waters?
What proactive outreach ought Pepsi to consider now?
Should they have pulled the app from the iTunes App Store?
Is this simply a storm in a teacup, one that reflects the continuing changes in what society at large considers to be acceptable behaviour?
And so is this a defused kerfuffle or even one that never gained mainstream traction?
Will it damage Pepsi's reputation?
Is it too early yet to give firm answers on any of these questions?
Would love to know what you think.
Incidentally, in episode 491 of the FIR podcast yesterday, Shel and I discussed this kerfuffle. That conversation starts at about 22 minutes into the show.
via.nevillehobson.com