Apple
Published on mayo 18th, 2010 | by GAby Menta
0
Password protect iPhone and iPad backups.
If you're like me, you store a lot of information on your iPhone that you want to keep private.
You might be interested to know that by default the backups from iTunes are not encrypted and can be dug through rather freely, furthermore restoring the device and seeing all your data is just a matter of clicking the restore button.
If you'd like more security with your iPhone/iPod/iPad backups, be sure to enable the encryption feature in iTunes.
* Connect your iPhone/iPad to your computer and select the device in iTunes
* Click on the 'Summary' tab
* Scroll down to "Options" and click on "Encrypt iPhone backup" – it will say iPad or iPod if that is your device.
* Select a password at the prompt – don't forget this password or you won't be able to access your backups!
* Click "Set Password"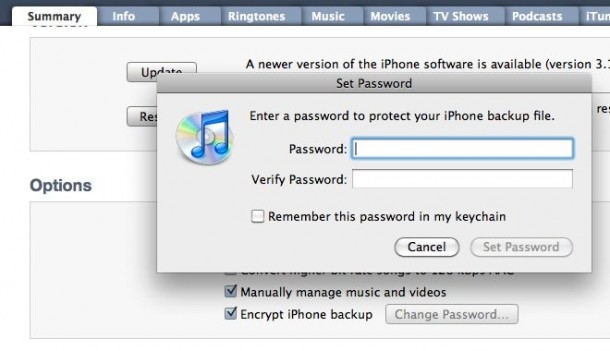 Now all of your backup data that is stored locally will be encrypted, which is indicated by a padlock icon. From this point forward, if you are restoring your iPhone or iPad you will be required to enter a password, and the data is no longer freely accessible by anyone with access to your machine.
I would highly recommend enabling this feature if you have sensitive data on your iPhone/iPad, or you sync your device to a computer that is not under your own control: like a work or school machine.
via.osxdaily.com